Flashback: They Will Rock You
I found this article that was featured in Philippine News, April 18, 2007. This was the first time I semi-professionally directed for musical theatre. The show was We Will Rock You, based on the music of the legendary rock band, Queen.
What was even more fun (and humbling) was that after we searched and auditioned a number of people and couldn't find someone to play the part of Commander Khoshaggi, I was surprised when the artistic director and managing director approached me and said, "You're gonna play the part…" What?!
Our run sold out 3 weekends, plus 1 extension weekend… and if I remember correctly, we had people come from across the country, and some from Australia!
I've seen We Will Rock You: The Musical in London and Chicago, and as much as I enjoyed those performances, no production will outdo the cast, band, and crew with whom I worked on this show.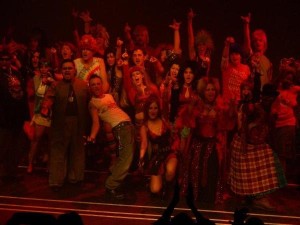 Even though you can't find this article on the Philippine News website anymore [dead link], songwriter and lead guitarist for Queen, Brian May, archived the article on his own website. Here's a copy of it! (with some of my own highlights 🙂 )
THEY WILL ROCK YOU

PHILIPPINE NEWS
Juanita Allas-Monaghan, Apr 18, 2007

CHICAGO – Just 10 minutes from downtown Chicago sits the Jedlicka Performing Arts Center, one of the few regional theaters in the world granted by Queen Theatricals the rights to the hit musical "We Will Rock You."

This kind of title acquisition has become commonplace at the intimate Jpac. Over the last decade the non-Equity company has staged Chicago premieres, regional premieres and world premieres.

A London production, We Will Rock You had its last successful U.S. show in Las Vegas in 2006. Performances at the Jpac will begin April 20, and run through May 5. Friday and Saturday at 7:30 p.m. with one Sunday matinee on April 29 at 3 p.m.

Five Filipino American talents are involved in the production. Mark Breta, the musical director/conductor, also plays the role of Khashoggi. Josephine de Jesus and Louella Maningas are both in the supporting ensemble, Janice Bantog is assistant director and Joey Lugay is band director.

"We Will Rock You" is named after the band Queen's hit single of the same name. The musical was written by English comedian and author Ben Elton in collaboration with Queen members Brian May and Roger Taylor.

The musical features 32 of Queen's greatest hits. It tells the story of a future Earth where globalization has eliminated all creativity and idiosyncrasy. Everyone watches the same movies, wears the same clothes and thinks the same thoughts.

It's a safe and happy 'Ga Ga' world where music is computer-generated by the evil corporation controlled by the Killer Queen. All musical instruments are banned. But resistance is growing. A hero is needed. Is the one who calls himself Galileo that man and can he help them break free?

"I feel privileged to work with a very talented cast and staff," said Breta, who calls his first production as musical director with Jpac "an amazing experience." He was last seen in the Jpac production of Miss Saigon, playing the role of Thuy.

"They were all diligent in learning their parts and singing together and blending as a group. There are over 30 of Queen's greatest hits in this show, each contributing to the tongue-in-cheek yet hilarious plot acted out and sung by the cast. Even those who may not have been fans of Queen will come to the show and realize how many Queen songs are actually familiar to them."

Breta also plays Khashoggi, the Commander of the Globalsoft Corporation, hunting down the rebels who don't conform to the planet's standards. Khashoggi is the right-hand man to the Killer Queen, who oversees Globalsoft.

"I'm excited to play this role because even though Khashoggi is a rough and tough character, I can still make it fun – and funny," Breta said.

Josephine de Jesus moved to Chicago from San Francisco for the theater scene and she has not been disappointed. She has performed in many improv shows and worked in commercials and course theaters. In We Will Rock You, she plays Madonna, one of the Bohemians.

"I enjoy my role, though demanding due to the large amount of dance routines and songs to learn," she said. "Many thanks to Mark for taking the time to record our parts on CDs (I'm a soprano). I've been listening to that every chance I get on my iPod. I also rehearse the moves in my head everywhere I am.

"Being in this show has already helped me in a lot of ways. Currently, I'm in a children's show called Aunt Nancy's Safari Stories where I play a dog named Jamal. I've learned through being in WWRY that exaggerated, specific moves are much funnier and more interesting to watch. I've translated that knowledge to the movements I play as Jamal and I'm getting more laughs as well."

Lou Maningas plays the role of Puff Daddy, one of those funny, small but memorable types of roles, according to her. Before moving to Illinois more than two years ago, she worked as a TV and stage actress in the Philippines and Singapore. She was last seen as Asaka in ECC Musical Theater's Once on This Island. Theater credits include Cinderella (Stepmother), As You Like It (Audrey), Fiddler On the Roof, Godspell, Himala the Musical (Mrs. Alba), Oraciones (Cleopatra) and Marriage of Inconvenience (Dizzy).

"Being able to perform and showcase my talents wherever in the world and in front of any kind of audience is always an opportunity to perfect my craft." said Lou on how her role is helping in her career. "I am very grateful to be given a chance to work with this bold, energetic theatre group."

We Will Rock You marks Janice Bantog's fifth year and 18th show at Jpac as stage crew. As assistant director and stage manager in the show, Bantog is pleased to be around fellow Filipinos. "I dubbed us the United Front of Pinoys, aka "Ufop" pronounced "you-pop", kasi walang "F" sound sa Tagalog," she said.

She also assisted director Dante Orfei in Jekyll & Hyde, Run For Your Wife, Aspects of Love, Peter Pan, Strangers on a Train, and Enchanted April. She directed the shows Sleeping Beauty and The Hobbit for Jpac's Children's Theatre, and has performed as Morgan LeFay in Excalibur, Tweedledee/Humpty Dumpty in Alice in Wonderland, one-third of the Silly Girls and The Flower Vase in Beauty & the Beast, and an ensemble role in Fiddler on the Roof.

Joey Lugay is the coordinator for the musicians in the band. He has been with the JPAC for many years, involved with the band and orchestra, and also occasionally as music director for various shows. Previous productions include Big Band to Broadway, Beauty & the Beast, Peter Pan, Jekyll & Hyde, 1776 and Tommy.

Lugay has also worked with Absolute Entertainment, Bugle Boy Productions, Theatre of Western Springs, Zzazz Productions, and regularly appears with Tom Stachniak's Suburban Swing Orchestra. His onstage roles include The Wizard of Oz (Cowardly Lion) and The King and I (King), at Naperville's Magical Starlight Theatre. Probably because he started piano at age 4, Joey still prefers to be in the pit, amidst the music.

Chicago actor/musician Matthew Marcum will play Galileo. Amanda Horvath plays the love of his life and companion in the rebellion, the feisty Scaramouche. A. Nikki Greenlee will play the soulful, but evil, Killer Queen.

Dante J. Orfei, Jpac's artistic director, will stage the production. Producer Joseph Messina is Jpac's new managing director.
I had a great time being on the creative team for 2 years at JPAC. You can check out their ongoing season schedule at the Jedlicka Performing Arts Center website.
Photos courtesy me, Amanda Horvath, Bill Calvert and JPAC.